Wondering how to fix the groaning sound coming from the gearbox, differential or driveshafts of your VW Polo or Fox? Or your Seat Ibiza or Skoda Fabia? In this article we describe the symptom, source and possible cure for the noise your car is making.
Symptom
The symptom is a groaning, moaning or mooing sound coming from what sounds like the gearbox, diff or drivetrain of your car when you pull away in first gear with the wheels turned, for example when pulling out of or into a T-junction.
This applies to the following vehicles fitted with a 02T type manual gearbox. The gearbox number is marked or embossed on the top of your gearbox casing. The 02T transmission is fitted to cars with the 1.2 litre, 3-cylinder BMD petrol engine, amongst others.
Cars
VW Fox (2007-2011) – 5Z chassis number
VW Polo (2007-2009) – 9N chassis number
Seat Ibiza (2007-2015)
Seat Cordoba (2007-2009)
Skoda Fabia (2007-2014) – 5J chassis number
The Fix
For 02T gearboxes manufactured after 6 November 2006 the Volkswagen advice is to replace the transmission oil with a newer official Volkswagen gear oil, part number G052 512 A2. This oil has additives to correctly lubricate the gears and differential mechanism in your gearbox and stops the groaning sound. There are various similar specification oils available, but only the genuine VAG group (VW, Audi, Seat, Skoda) oil has the correct additives to stop the groaning.
Genuine VW G052 512 A2 gear oil is available online through our shopping page here. The 02T transmission's official oil capacity is 1.9 litres so you will need two of the 1-litre bottles.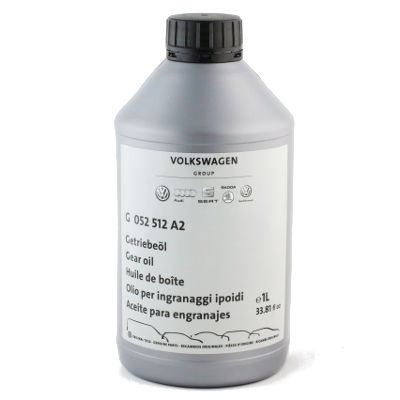 To open the oil drain and fill plugs you might need the special VAG tool 3357, also available online from our shopping page here. Top tip – to stop the old oil glugging out all over the place, open the filler plug first to allow air to flow in at the top as the oil flows out of the drain plug. Make sure you replace the drain plug before pouring in the new oil!